What Are Dental Implants?
Dental implants are long-lasting and stable tooth replacements designed to replace the root and crown of one or multiple teeth. They are created with the foundation of a titanium implant post that is surgically placed into the jawbone before we attach a custom restoration such as a crown, bridge or type of denture to complete your treatment. Not only are dental implants a great option to restore your missing teeth, but they also:
Boost your self-confidence
Provide easier maintenance compared to dentures
Look and feel like natural teeth
Prevent bone loss
Make eating easier
Improve your clarity of speech
Enhance your smile's appearance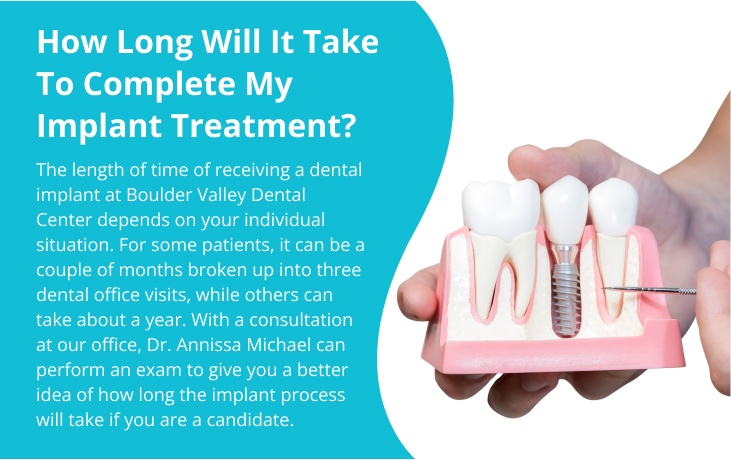 How Long Will It Take To Complete My Implant Treatment?
The length of time of receiving a dental implant at Boulder Valley Dental Center depends on your individual situation. For some patients, it can be a couple of months broken up into three dental office visits, while others can take about a year. With a consultation at our office, Dr. Annissa Michael can perform an exam to give you a better idea of how long the implant process will take.
Preparation
Before you begin the implant process, we will perform a CT scan to evaluate your bone structure at the site of your missing tooth. This allows us to assess the density of your bone to determine if you have enough to support an implant. If not, a bone graft might be your first step before the implant placement. This process can take between three to six months.
Implant Placement
The second step of the implant process is the implant placement. This involves surgically placing an implant post made of titanium or other biocompatible material into the jawbone to replace the root of your missing tooth. After assessing the complexity of your case, our dentist will either be able to treat you in our office or refer you to another dentist who is equipped to manage this part of your implant treatment.
Recovery
Once you have finished with the implant placement, your final appointment will not be for a while to allow the bone to heal. The average recovery time for an implant is between three to six months.
Implant Restoration
The final step of your implant treatment is coming in for an implant restoration. This is typically a dental crown or another type of porcelain restoration we customize to make your dental implant look and feel like a natural tooth.
How Much Do Implants Typically Cost?
The cost of implants varies on how many teeth you are looking to replace, the need for a bone graft and the type of restoration used to finish your implant. During a consultation, our dentist can give you an estimate of what the cost of your treatment might be.
Will My Insurance Cover Dental Implants?
It is possible your insurance provider may cover at least some of your dental implant. Just be sure to check with your provider beforehand to confirm coverage.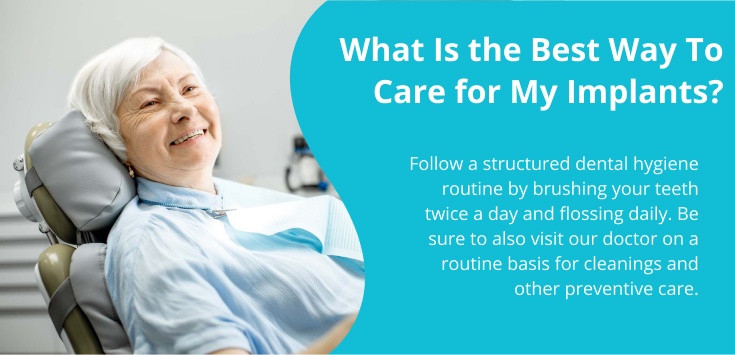 What is the Best Way To Care for My Implants?
Follow a structured dental hygiene routine by brushing your teeth twice a day and flossing daily. Be sure to also visit our dentist on a routine basis for cleanings and other preventive care.
To schedule an appointment for dental implants in Louisville, Colorado, please give us a call at 303-666-8820.