Are you currently without dental insurance and looking for a solution to get the care you need? If so, we invite you to enroll in our BVDC Loyalty Plan for you to receive the preventive treatments your smile deserves. Check out more details below and give us a call at 303-666-8820 if you have any questions before you meet with Dr. Annissa Michael here at Boulder Valley Dental Center. We would be happy to assist you!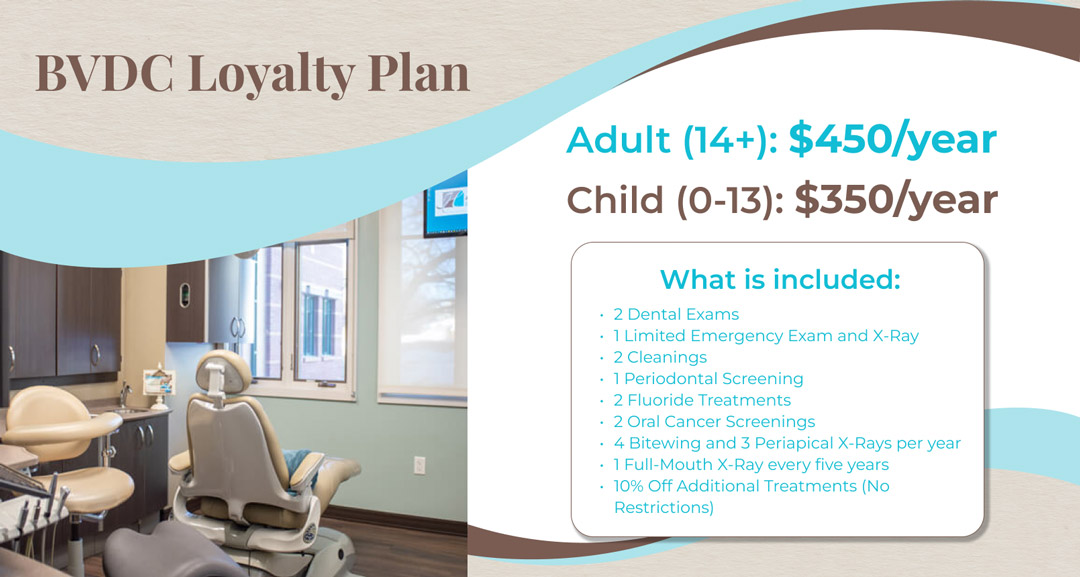 BVDC Loyalty Plan
Adult (14+): $450/year
Child (0-13): $350/year
What is included:
2 Dental Exams
1 Limited Emergency Exam and X-Ray
2 Cleanings
1 Periodontal Screening
2 Fluoride Treatments
2 Oral Cancer Screenings
4 Bitewing and 3 Periapical X-Rays per year
1 Full-Mouth X-Ray every five years
10% Off Additional Treatments (No Restrictions)
Plus, the great news is there are no yearly maximums, deductibles, waiting periods or pre-authorizations.
Frequently Asked Questions
▼
Can I enroll my whole family?
Yes, of course! We love caring for everyone in the family!
▼
How long is my membership?
Your membership starts the day of activation and lasts for 12 months.
▼
What if I am already a patient — can I still join?
Yes, all new and returning patients without dental insurance are welcome to enroll.
▼
I have dental insurance, but can I sign up for the BVDC plan?
Unfortunately, this plan is not valid in combination with insurance. We do sincerely appreciate your support as a patient of our practice.
▼
If I have an FSA/HSA plan, would I able to submit the BVDC membership fee for reimbursement?
Yes, you can. We advise you to contact your employee benefits provider beforehand to confirm the details of coverage.
▼
How can I receive dental treatment with my discount?
If you are seeking care, you can call us to schedule an appointment on or after your effective membership date.
▼
What if I choose to cancel my membership?
We understand circumstances may arise where you may feel need the cancel. If this becomes the case, you can cancel your membership within the first 30 days of activation. If you cancel during this time, we will refund you the money paid towards your membership fee. However, you will be required to pay the full fee for the services you used within the 30 days of membership. If you wish to make changes to your plan, please reach out to us.
▼
Does this plan have any treatment exclusions?
Nope. Treatments like dental implants, teeth whitening and veneers are all covered under this plan.
▼
What happens if I accidentally miss my dental appointment?
If you miss an appointment or cancel within less than 48 hours, you will be forfeiting your dental exam/cleaning benefits for this appointment. Your membership benefits do not roll over and need to be used within the 12-month period.
To avoid this, we encourage you to plan ahead by scheduling appointments with our dentist in Louisville, Colorado, months in advance.
▼
How do I sign up for the BVDC plan?
To sign up yourself or a family member, please come by our office. Your membership will begin as soon as your membership fee payment has gone through.