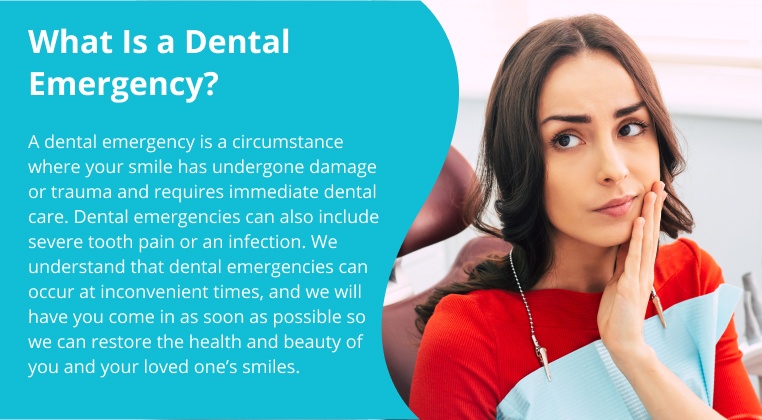 What Qualifies as a Dental Emergency?
If you answer yes to one of the questions below, our dentist and team encourage you to contact us for emergency dental care:
Do you have intense or lasting tooth pain?
Have you lost a crown or filling or other dental restoration?
Have you experienced some form of damage to your gums, tongue, lips, cheeks or other soft tissues?
Have you fractured or cracked a tooth?
Have you knocked out a tooth, either partially or all the way?
When you call in, we will give you instructions on what to do to care for your smile until you can visit our office.
Is Same-Day Emergency Dentistry Available?
Yes! In some dental emergencies, the amount of time that passes before the patient receives dental care can influence the success of the treatment. That is why we provide same-day emergency dentistry! Contact us right away if you or a family member is experiencing a dental emergency so we can provide the professional dental services you need.
Should I Receive Treatment for Other Injuries First Before Coming In for Dental Care?
If you have experienced trauma to your neck or head, a broken jaw, or any other serious or life-threatening injuries in addition to smile damage, do not visit us first. Instead, go to an emergency room or visit your general physician, depending on the severity of your injuries.
Call today at 303-666-8820 if you require emergency dental care in Louisville, Colorado. Our dentist, Dr. Annissa Michael, and our team at Boulder Valley Dental Center stand ready to assist you.