Wouldn't You Love To Relax at the Dentist?
Well, you finally can with sedation dentistry in Louisville, Colorado.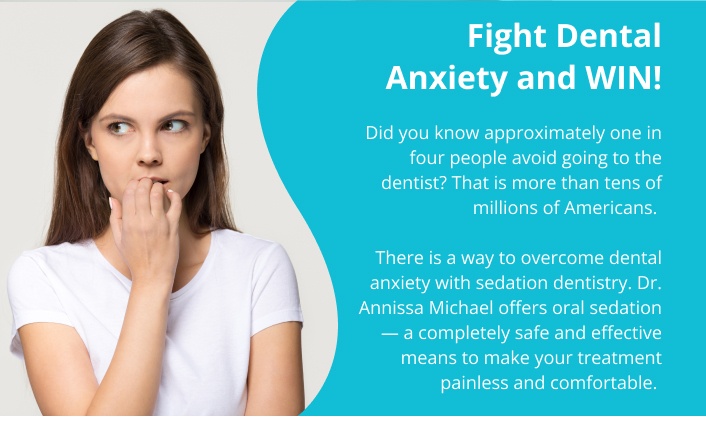 What Is Oral Sedation?
Oral sedation is an option for people to receive necessary dental care in the most comfortable, relaxed manner using very safe and effective medications. Sedation dentistry is more than just taking a pill before your appointment with our team. The first and most important step in the process is providing you a welcoming, warm, caring and personalized atmosphere from the moment we pick up the phone to meeting you in our office. We take the time you need to tell us about the story of your past experiences. We understand your fears, anxieties and concerns about having to go through the emotional process of receiving dental treatment.
Our entire team is hired and trained to provide an environment free from judgement or shame. We take time to establish a relationship built on trust with you. After this is achieved, we are happy to help you experience the benefits of sedation dentistry without fear, pain or anxiety.
Dr. Annissa Michael has been providing sedation dentistry for nearly 10 years. She is extremely understanding of each patient's unique situation and has provided sedation dentistry to hundreds of patients. She has listened to their individual accounts of fears, traumas and anxieties and has worked to help them overcome these barriers to receive the dental care they need, desire and deserve.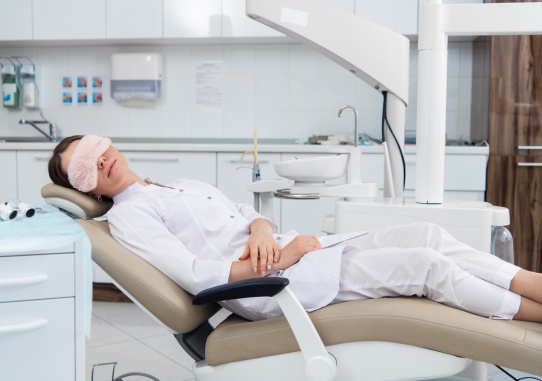 Is Sedation Dentistry Right for Me?
Are you afraid of going to the dentist?
Do you avoid going to the dentist even though you know you need dental treatment done?
Are you terrified of needles?
Do you often cancel your dental appointment because you just dread going?
Have you had a bad physically or emotionally traumatic dental experiences in the past?
Have you been away from the dentist for many years and have extensive dental needs?
Do you experience difficulty getting numb, or staying numb, once the dentist has started drilling?
Has dental work been painful for you in the past?
Do you have a seriously bad gag reflex?
Do you have complex dental needs?
Is your time extremely valuable, or do you not have a lot of time available for several dental visits?
If you answered "yes" to any of the above, then you could benefit from sedation dentistry!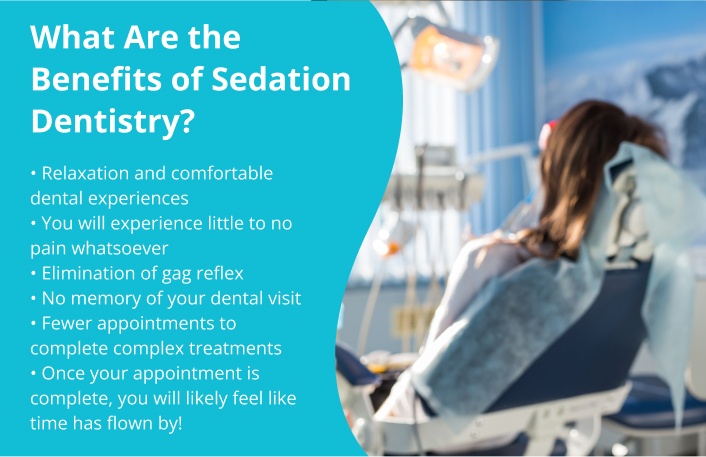 Sedation Dentistry Changes People's Lives!
Watch this video of one of our patient's life changing experiences:
Five Simple Steps to Sedation Dentistry
1. You will meet with Dr. Annissa Michael to develop a relationship of trust with her. She will ask you many questions to get to know you and start the process of helping you through the emotional challenges of completing dental care. Our office is a safe, judgement-free zone. You will decide with Dr. Annissa on the best dental care plan to achieve the goals you have for the health of your mouth and/or aesthetic desires you have.
2. Once your dental care plan is finalized, Dr. Annissa will provide you a prescription to fill your anti-anxiety/sedation medications at the pharmacy. She will give you specific instructions on what medication to take and what time. You will likely be instructed to take one anti-anxiety pill the night before the appointment to help you get a better night's sleep. You will also be given specific instructions to ensure you will have an extremely safe and comfortable sedation dental experience.
3. The morning of your appointment, you will take a second anti-anxiety pill an hour before you come into the office. A companion will need to drive you to our office, and you will bring the remaining pills with you for Dr. Annissa to administer during your visit. This will allow us to achieve the optimal level of sedation for you to comfortably complete your dental care in the most relaxed state.
4. After your appointment, your companion will drive you home. You will likely require a restful nap, and you will wake up with very little memory of even being in the dental office!
5. Enjoy looking forward to your routine dental visits because you have overcome your fear of dentistry with Dr. Annissa and sedation dentistry!
Ready to conquer your dental anxiety? Call us today at 303-666-8820 to schedule your visit with our talented Dr. Annissa Michael at Boulder Valley Dental Center.