What Is Cone Beam 3D Imaging?
Our dentist and team are committed to providing you with high-quality care tailored to your individual needs. One of the advanced dental technologies we use to meet this goal is our 3D cone beam imaging system.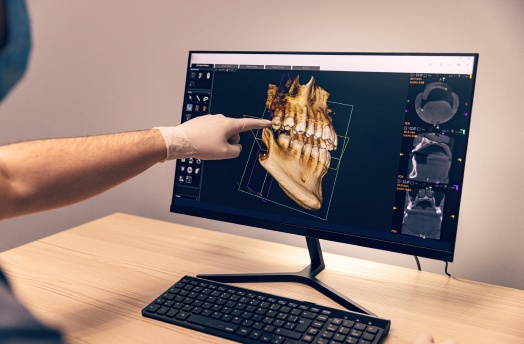 This state-of-the-art technology provides us with three-dimensional reconstructions of your teeth, mouth, jaw, neck, ears, nose and throat, giving us a highly detailed and comprehensive understanding of your oral health needs. The images captured by this device are more detailed than those provided by regular X-rays, allowing our dentist to diagnose and evaluate dental conditions and provide you with more precise and effective care to restore your oral health and smile more easily.
Purpose of Cone Beam 3D Imaging
Our dentist may use 3D cone beam imaging to:
Plan dental implant placement
Evaluate the jaws and face
View your head and neck as a comprehensive whole
Diagnose tooth decay and other problems
Diagnose endodontic problems
Plan root canal therapy
Analyze dental and facial trauma
Plan and monitor the progress of orthodontic treatment
Visualize abnormal teeth
Assess TMJ disorders
Getting Started
We welcome you to call Boulder Valley Dental Center at 303-666-8820 to learn more about cone beam 3D imaging in Louisville, Colorado, and schedule your consultation with Dr. Annissa Michael.