Beautiful Cosmetic Dentistry in Louisville, Colorado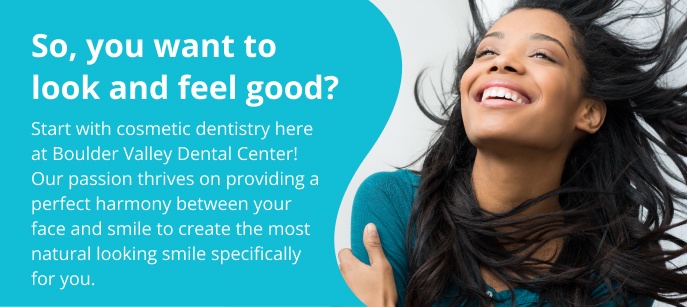 Some of the cosmetic possibilities we can make happen for your smile include:
Closing gaps and spaces
Repairing any chipped or cracked teeth
Taking care of yellow, stained or discolored teeth
Gently contouring your gumline for a more seamless appearance
Moving your teeth to their correct position
Having your teeth appear more symmetrical
I do not like my smile. What do you recommend?
A smile makeover not only gifts you a new, beautiful smile, but it also can give you a youthful glow. When you consult our doctor for a smile makeover, we will look for factors that will restore balance within your face and compliment your smile. This could include looking at the face shape, tooth color, tooth size, skin tone and lip support. From there, Dr. Annissa Michael will create a personalized treatment plan.
Remember, we only see one patient at a time.
This means our time with you is yours alone — no one else. You can expect an open dialogue from start to finish, so results are predictable and satisfying. Whether you are looking for a simple or extensive smile makeover, our cosmetic dentist in Louisville, Colorado, can offer:
Are you ready to put your best smile forward? Contact us at 303-666-8820 and schedule a consultation today!
Why choose Dr. Annissa for your cosmetic dentistry needs?
Natural Results
Our motto is to provide exceptional, lifetime dentistry. When you undergo cosmetic dentistry with Dr. Annissa, you can expect natural, beautiful results.
Clear Communication
You have our 100% focus. We make recommendations based on your goals and desires and will educate you throughout your treatment. You will get to "try on" your new smile with beautiful, custom provisional restorations to provide feedback before the final porcelain restorations are complete.
A "Trial Smile" if you will. Provisional restorations not as bright as you wanted? We will take photos and communicate this to the lab. Do your front two teeth look a little too short? We can also let the lab know this before your finals are complete.
Modern Education
We are committed to providing the latest technologies and education.
Spa-Like Amenities
You will not even realize you are at the dentist's office. From a complimentary beverage center to paraffin hand dips, we eliminate the dental office smells.
Idolize Your Beauty
Thanks to smile makeovers, we have created new standards of aging beautifully!
Say "yes" to a smile makeover today!