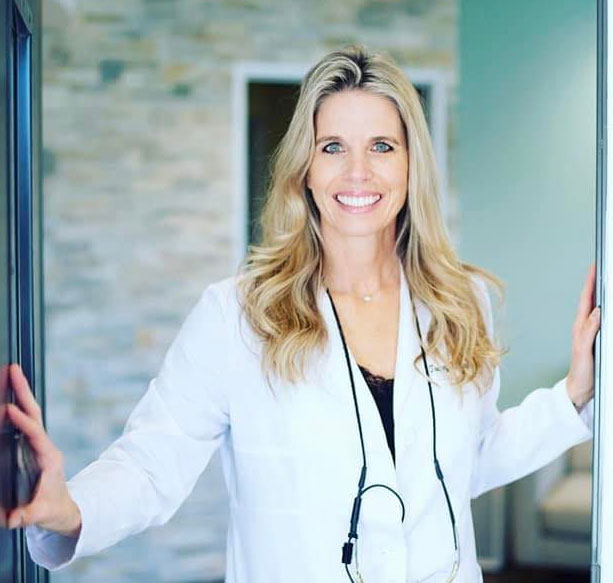 Dr. Tracey Hughes offers compassionate, personalized dental care at the Boulder Valley Dental Center, where patients are welcomed as guests. She has been mentioned in dental expert Bill Blatchford's listing of the top 23 dentists in North America, in his book "Blatchford Blueprints."
Dr. Hughes is committed to advancing her knowledge and skills through continuing education and has committed many hours over the years to learn more about all aspects of dentistry from leading institutions and colleagues. To date, she has completed over 2,000 hours of CE coursework, earning fellowship in the Academy of General Dentistry and fellowship with the Las Vegas Institute for Advanced Dental Studies (LVI Global).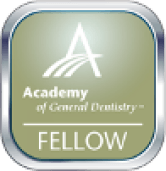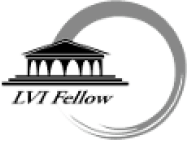 Of the 160,000 practicing dentists in the U.S., Dr. Hughes is one of less than 1,000 who have earned their fellowship in advanced physiologic based dentistry at the prestigious Las Vegas Institute for Advanced Dental Technologies (LVI Global). LVI fellowship is the distinction awarded to those who have completed the LVI CORE curriculum, which includes a minimum of 278 continuing dental education hours of training in advanced aesthetics and neuromuscular science, as well as a comprehensive examination.
LVI Core I: Advanced Functional Physiologic Dentistry
LVI Core II: Orthotic Maintenance, Adjustment and Essential Aesthetic Reconstructive Techniques
LVI Core III: Advanced Adhesive Aesthetic Dentistry
LVI Core IV: Advanced Occlusion Principles
LVI Core V: Comprehensive Aesthetic Occlusal Reconstruction/Physiologic Rehabilitation
LVI Core VI: Coronoplasty and Case Finishing- Critical Steps for Physiologic Success
LVI Core VII: Full Mouth Reconstruction/Physiologic Rehabilitation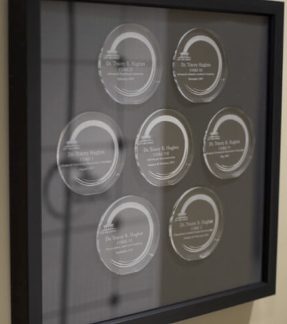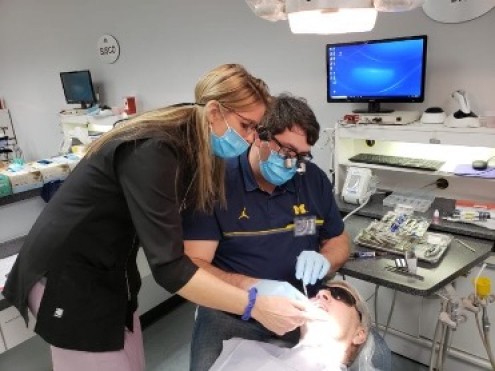 In addition to private practice, Dr. Hughes currently serves as a clinical instructor at the world-renowned Las Vegas Institute for Advanced Dental Studies, where she helps teach the next generation of physiologic dentistry to dentists from all over the world.
Dr. Hughes received her B.S. in chemistry and biology from Buena Vista University in Iowa. She received her Doctor of Dental Surgery from the University of Iowa College of Dentistry in 1998 and completed an Advanced Education in General Dentistry residency at the University of Iowa.
While in school, she received several prestigious awards:
Graduated magna cum laude from University of Iowa College of Dentistry
Inducted as an honorary member of the Omicron Kappa Upsilon Honor Society
Earned the AGD Senior Award at the College of Dentistry
Recipient of the Ralph C. Appleby Removable Prosthodontic Award
Dr. Hughes' goal as a dentist is to create long-lasting relationships with her patients while providing them with healthy, confident smiles. It is her passion to help patients overcome their fears and anxieties about dental treatment by providing a safe, judgment-free zone in our office and treatment in a relaxing, comfortable environment.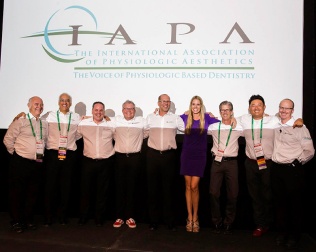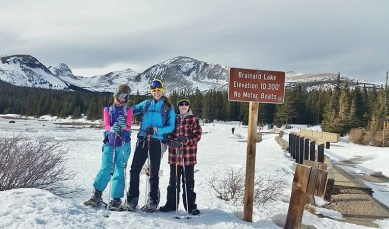 She is a recent empty-nester of an 18-year-old daughter currently living in Maine and 19-year-old son currently living in Idaho. When you visit our office, you will see photos of Dr. Hughes with her children over the years on a TV mounted on the wall in the reception area.
Outside the office, Dr. Hughes enjoys going on adventures with her young adult children, Ben and Camryn. She loves mountain biking, paddle boarding, camping, hiking, fishing and golfing — everything our beautiful state of Colorado has to offer.